Yesterday was quite nice as far as Melbourne spring Sundays go. Mum and I were going to go to the Art Deco exhibition at the NGV but arrived a little late so decided instead to kick back with hot chocolate, coffee and a cheese platter at Walter's Wine Bar. Excellent hot chocolate (my mouth is watering just thinking about it), delicious cheeses, SLOWEST service ever. I had to chop my head out of the photo because it was weird looking (weirder than usual, I mean), but came outside for a photo for the first time - just to prove my house has an outside.
Dress - Supre; Cardigan - Jay Jays; Belt - Vintage; Scarf - Vintage; Shoes - Rubi.
I have also been inspired by the gorgeous Rachael of
The Life Aesthetic
, who posted some very cute photos of her as Alice from Alice in Wonderland, to post a couple of photos of various costumes I've worn over the past couple of years. I like to dress up, what can I say.
My birthday last year, a friend's house, alcohol, a gachupin suit. Recipe for awesome!
Chinese New Year's parade in the city this year. I got the papier mache goat, lucky me!
Every year our family goes away with a bunch of other families for an Easter weekend of fun, and the last night is always a costume party. This time the theme was loud - I went as a shiny space alien robot and my sister was some crazy ass Japanese girl.
At the first
Split Enz
gig in Auckland this year. Apparently heaps of people dressed up in full costume and makeup for the Wellington and Christchurch gigs, but in Auckland I was one of two people who made the effort. Funnily enough people were giving me weird looks all night. Blouse - Cotton On; Shorts - Roxy; Tights - Target; Shoes - Joto; Bag - Rip Curl; Glasses - Aotea Square Market (I smashed out the lenses).
Split Enz, 2nd gig - It would be remiss of me not to wear a different costume! Vintage dress of my mum's.
For anyone who's never heard of Split Enz, they were a seminal New Zealand band of the 70s and 80s. Tim and Neil Finn were both in it, and Neil went on to form Crowded House (the lineup of which included Tim at one point). They used to wear some crazy and wonderful theatrical costumes courtesy of percussionist Noel Crombie: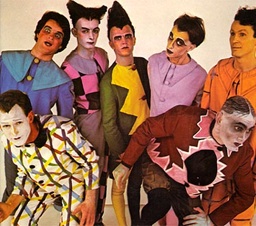 So I wasn't just dressing up for no reason!
- Robyn